Written by: Mag | Date: 2013-01-08 11:00:45 | Related to: Diablo 3 - press review
Patch 1.0.7 is fast approaching! Blizzard on it's official Twitter posted a shot news:

We're still busy working on the details, but we're hoping to have it out in the next few days :)


Comments (1)

Written by: Mag | Date: 2013-01-03 11:15:20 | Related to: Diablo 3 PvP
Some new info about incoming PvP mode.

"The fun in D2 was to destroy other players and get their ears."

While this is not true for everybody, we totally acknowledge that a lot of people feel this way. Because PvP is so extremely important to quite a few people, it is important to us that the PvP systems we will implement actually work well and are fun to play, and we did not feel this was the case for Team Deathmatch mode for the reasons explained in the blog.

In regards to Diablo II, that game was never really designed as a PvP game, but over time a PvP culture developed around the duelling system that resulted in a lot of people putting a lot of effort of that game into creating and gearing duelling characters. This should hopefully become possible in Diablo III as well come patch 1.0.7.

Again, it is important to emphasise that PvP in Diablo III hasn't been scrapped. While Team Deathmatch mode might not happen in the format that was shown at BlizzCon, something else will.
Comments (4)

Written by: Mag | Date: 2013-01-03 09:00:47 | Related to: D3CL General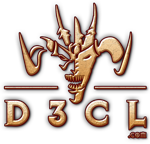 We invite you to register your Battletag in our system. This is necessary in order to participate in D3CL competitions.

To do this, edit the account profile. There is also a link in the right column at the top of the site.

After submitting the Battletag, you need to confirm it by appriopriate items arangement on character in Diablo 3. The system randomly draws a diagram (item equipped/no item) and the same you have to set on the character in game and relogin. Then in the profile press "Check" button. If there will be any problems, ask on the comments for this news.
Comments (12)

Written by: Spirals | Date: 2012-12-31 16:12:18 | Related to: D3CL General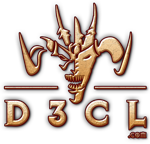 Diablo 3 clan league is proud to announce the first league season ever for Diablo 3!

In patch 1.07 (according to Blizzard) we will be getting PvP options in the game and D3CL is ready for this event. We will run a league based on the ELO system.

We would very much like to see you and your friends participate in this league!

Prepare yourselves!!!


Comments (3)

Written by: Spirals | Date: 2012-12-28 07:16:35 | Related to: D3CL General
Diablo III PvP Update

We've been working really hard on the features, content, and systems for PvP in Diablo III and I wanted to take some time to provide an update on where we're at. Of course, our goal has been to release our Team Deathmatch mode as soon as possible, but we don't want to put anything out there before it's ready. Right now, Team Deathmatch isn't where we want it to be, and I want to provide some insight into where we are at in the development process.

The State of PvP

Our original intent with PvP for Diablo III was to provide more formal support for the dueling community that existed in Diablo II. We wanted to give players some kind of structure that would not only make it easier for you to duel with one another, but also allow you to have duels that were team-based. This is how our Team Deathmatch mode emerged, and it's been instrumental in making a lot of improvements to Diablo III. But in continuing to develop this mode, playtest it, and put it in front of other developers within the company, we've found that it falls short of our expectations for a high-quality Blizzard experience. Putting people into an arena and letting them hurl fireballs and swing crazy-ass swords at one another always has an element of fun to it. I imagine it's no surprise to anyone reading this blog that people like battling each other in video games, so if you had the chance to play Team Deathmatch at one of the BlizzCons where we featured it you might not understand why we'd say that we don't feel the current mode is good enough.

Well, Here's Why...

"...we don't believe Deathmatch is the experience we feel it needs to be in order to ship, so we will be shelving it for now and exploring other options..." For us it comes to a few issues, one of which is depth. Simply fighting each other with no other objectives or choices to make gets old relatively quickly. We've brought a lot of people in to try out Team Deathmatch and, while some found it entertaining, most of our testers didn't feel like it was something they'd want to do beyond a few hours. Without more varied objectives, or very lucrative rewards, few saw our current iteration as something they'd want spend a lot of time in. Another is class balance. Like Diablo II, Diablo III was designed to be a PvE-first kind of game, where we never compromised on player abilities in the name of future PvP balance. We want to be able to carry over as many of the crazy runes, items, and skills as possible, with their crazy effects, and alter them as little as possible. In a casual PvP mode, something equivalent to a WoW Battleground, this would be fine, but Team Deathmatch felt very hardcore, and it put a laser focus on class balance in a way that we didn't think would be good for the game as a whole. Certainly, we've gotten a lot of benefits from the development of Team Deathmatch, especially in the areas of controls and combat model tuning, but at this point we don't believe it's the experience we feel it needs to be in order to ship, so we will be shelving it for now and exploring other options.

What's Next

"You've been asking us for dueling for a while, so we're going to add it to the game soon" So, our core problem is that our Team Deathmatch mode doesn't feel like a great addition to Diablo III. It's not up to the quality that Blizzard gamers expect or that we feel you deserve, and it doesn't really fit with our goals for the rest of the game. The question now is what are we going to do about it? First and foremost, if our original goal was to support dueling, then we're not achieving that goal very well if we don't actually give players a way to duel in-game. You've been asking us for dueling for a while, so we're going to add it to the game soon. Dueling is currently scheduled to release with patch 1.0.7, which is set to hit sometime after the new year. (We'll be providing details about that feature very soon, so stay tuned.) But as I mentioned before, we are going back to the drawing board on a new replacement for Team Deathmatch, something that feels more appropriate for Diablo III. And as we stated previously, regardless of when we release it, it'll be a free addition to the game. Team Deathmatch provided us with the foundation that we needed and served us well. Hell, it may even still be added in some form in the future. For now, though, we're going to first be looking at new modes that play up to the strengths of the character classes, focus on objectives beyond just defeating other players, and possibly even integrate PvE elements and rewards.

Keepin' It Real

We wanted to be upfront and honest with the community about where this particular project is at. It's certainly not ideal, and I know some of you got to play Team Deathmatch at BlizzCon and are probably thinking, "It seemed good enough! Just give us that." I also know how I feel whenever a game or game feature I'm looking forward to is delayed, but, as with all things Blizzard, we want to be sure that the features we add to Diablo III are actually worth it and will make the game better. While we don't have further information to share right now about our plans for additional PvP modes, we look forward to posting more about dueling in the next few days.

source: http://eu.battle.net/d3/en/blog/6816948/Diablo_III_PvP_Update_-27_12_2012

TLTR:
- PvP mode will be available in patch 1.0.7
- only 1v1 mode will be available
Comments (24)

Written by: Mag | Date: 2012-12-27 11:38:51 | Related to: Diablo 3 PvP
There is a chance that the blog PvP will beready before the end of the year! Blizzard on the question whether the blog will be ready at the end of 2013 or even 2014 wrote:

It shouldn't be that long. I am sorry I cannot be more concrete than this, but it should be ready before the new year... hopefully that is :-)
Comments (2)

Written by: Spirals | Date: 2012-12-19 12:50:08 | Related to: Diablo 3
Blizzard has banned thousands of accounts. The blue post states this:

We've recently issued account bans to several thousand Diablo III players who were found to be using botting programs while playing. In addition to undermining the spirit of fair play, botting, hacking, and other forms of cheating can also cause technical problems with the game as well as contribute to performance issues with the Battle.net service. To learn more about our exploitation policy for Diablo III and how it may affect your gameplay, please visit our official support site.

As always, maintaining a stable, safe, and enjoyable online environment for legitimate players is very important to us, and we'll be continuing to keep watch on Battle.net and take action as needed. In the meantime, if you wish to report the possible use of botting programs to Blizzard, please see this thread for more information. (We will also be adding the ability for players to report this kind of behavior directly through the game client in a future patch.)

For questions regarding account actions, please refer to Account Administration.
source: http://eu.battle.net/d3/en/forum/topic/6161067410
Comments (5)

Written by: Spirals | Date: 2012-12-06 11:48:41 | Related to: Diablo 3 PvP
Source: Incgamers.com - posted: 03 Dec 2012 04:15 PM PST

Today's Twitter queries to Jay Wilson about the upcoming PvP info blog yielded nothing new.

Any weekly ETA on the pvp blog? – Xinek
I don't estimate dates. My guesses get interpreted as promises. It's not completely up to me when these things happen. – JayWilson

Ok, do you think PvP blog will be ready this week? Or it's still a lot to work on? Jay, there weren't any info for months... – Piggilol
answering that would be providing the estimate that I said I could not provide. – JayWilson

It's been a week since Jay boldly (foolishly?) said the PvP info would be coming "very soon." Of course we know the dubious nature of the word soon when spoken by any Blizzard representative, so really we have ourselves to blame for any heightened anticipation.

Personally, I'm not expecting PvP until next year. Not when we're this close to the end of the year without any more concrete details, and especially after their recent mention of v1.07 as a big, content-rich patch due in "weeks." We might get that rushed out before Blizzard's annual two week Xmas/New Year's holiday, but unless they do something very odd with the numbering system, there's no way their long-promised PvP in v1.1 can come before v1.07. Alas.
Comments (1)

Written by: Spirals | Date: 2012-08-21 11:15:44 | Related to: Diablo 3 - press review
Hey guys, shame no news of pvp yet but with this big pvm patch coming up we can expect Blizzard to start working on pvp.

Big change - the paragon levels and magic find.
Minor changes - 1.04 systems change
Go from there to read the stuff on the character classes.

Blizzard has been working hard to make it a more whole game. One could say they could have done this before and in a more fitting diablo 2 style (lvl 99 as cap) but hey, atleast it's a positive change.
Comments (6)

Written by: Mag | Date: 2012-08-10 10:51:07 | Related to: Diablo 3 - press review
Very important news from Blizzard about security:

Players and Friends,

Even when you are in the business of fun, not every week ends up being fun. This week, our security team found an unauthorized and illegal access into our internal network here at Blizzard. We quickly took steps to close off this access and began working with law enforcement and security experts to investigate what happened.

At this time, we've found no evidence that financial information such as credit cards, billing addresses, or real names were compromised. Our investigation is ongoing, but so far nothing suggests that these pieces of information have been accessed.

Some data was illegally accessed, including a list of email addresses for global Battle.net users, outside of China. For players on North American servers (which generally includes players from North America, Latin America, Australia, New Zealand, and Southeast Asia) the answer to the personal security question, and information relating to Mobile and Dial-In Authenticators were also accessed. Based on what we currently know, this information alone is NOT enough for anyone to gain access to Battle.net accounts.

We also know that cryptographically scrambled versions of Battle.net passwords (not actual passwords) for players on North American servers were taken. We use Secure Remote Password protocol (SRP) to protect these passwords, which is designed to make it extremely difficult to extract the actual password, and also means that each password would have to be deciphered individually. As a precaution, however, we recommend that players on North American servers change their password. Please click this link to change your password. Moreover, if you have used the same or similar passwords for other purposes, you may want to consider changing those passwords as well.

In the coming days, we'll be prompting players on North American servers to change their secret questions and answers through an automated process. Additionally, we'll prompt mobile authenticator users to update their authenticator software. As a reminder, phishing emails will ask you for password or login information. Blizzard Entertainment emails will never ask for your password. We deeply regret the inconvenience to all of you and understand you may have questions. Please find additional information here.

We take the security of your personal information very seriously, and we are truly sorry that this has happened.

Sincerely,
Mike Morhaime

What data was affected?

Here's a summary of the data that we know was illegally accessed:
North American-based accounts, including players from Latin America, Australia, New Zealand, and Southeast Asia:
- Email addresses
- Answers to secret security questions
- Cryptographically scrambled versions of passwords (not actual passwords)
- Information associated with the Mobile Authenticator
- Information associated with the Dial-in Authenticator
- Information associated with Phone Lock, a security system associated with Taiwan accounts only

Accounts from all global regions outside of China (including Europe and Russia):
- Email addresses

China-based accounts:
- Unaffected

Was any personal or financial information accessed?
At this time, there is no evidence that financial information was affected or accessed. There's also no evidence that personal information such as real names or billing addresses were accessed.
Comments (1)