Written by: Spirals | Date: 2012-08-08 09:36:11 | Related to: Diablo 3 - press review
They're finally available, at long last. The fabled character profiles that were teased last week can finally be used. There's still no word on when we'll be seeing patch 1.0.4, but it's nice to see some progress being made.

There are also reports that the feature has some bugs that are ongoing, as people that click on their profile are met with incorrect information.

Yup, they're ready.
All you need to do is log in with your Battle.net account (look for the login box in the upper-right hand corner of your screen) to access character profiles from any page on the Diablo III community site. Profiles give you the power to:

- View your heroes' gear, stats, and skills. How high have you raised your characters' attributes? What are they wielding in each slot? What are their most prominent gear bonuses? What skills comprise their current build? Nuance awaits you in the Heroes tab.
- Track your game progress. How many acts have you cleared? What bosses have you shredded in each difficulty? How far have you leveled up your hardcore and normal artisans? Find out in the Career tab. You can also check your play time (by class) throughout your entire Diablo III career, and learn how many monsters and elites you've slain.
- Share with your friends. The Friends tab lets you check out your BattleTag friends' characters, so that you can quickly compare notes on gear, skill & rune choices, and everything in between. You can also click on a BattleTag in the Diablo III forums to go directly to that player's profile.

We like that profiles provide for easy sharing, comparing, and refining of your heroes as you pursue monster-slaying mastery. In fact, we like profiles so much that we plan to add even more functionality to them as Diablo III evolves, including detailed statistics and tabs for achievements and artisans.

If there's something else you'd like to see appear in a character profile, please make sure to let us know in the comments below or on our website forums.

Happy Clicking!
Comments (1)

Written by: Mag | Date: 2012-07-09 22:04:31 | Related to: Diablo 3 - press review
Bashiok has posted some info about PvP Matchmaking. One of the forum members said that there will be matchmaking based on gear. And the Blizzard's response:

"More specifically, based off of your win/loss record. It's not dissimilar from the matchmaker found in StarCraft II, which is based off of the Elo system used for Chess championships. Your win/loss and who they were against determines a 'skill rating', which is used to match up against other players of a similar rating. The intent is to get an even/fair match. Regardless of any individual factors like build, gear, or player ability, you'll find some equilibrium where you're facing off against players that you're about as likely to beat as you are to lose. If getting better gear raises your abilities then you're simply matched against players of a higher rating. Changing builds or just getting better at PvP could have the same effect. But regardless if you move up or down you're ultimately still netting around a 50/50 win/loss as you're always matching against similarly rated players."

and later...

"I don't want to squash any excitement about PvP, because we think it's going to be a lot of fun, but a lot of the details are still in flux. We're focusing on 1.0.4, and once that's behind us we'll be a lot closer to sharing some more concrete details on the "PvP patch" as they solidify."

More info you can find here: http://us.battle.net/d3/en/forum/topic/6036226194.

I'll just add that in the D3CL plans there was a creation of ranking based on ELO system.
Comments (2)

Written by: Mag | Date: 2012-07-05 08:02:51 | Related to: Diablo 3 - press review
Bashiok has posted on the official forum about so-called end-game, which is that, what remains to players after they reach level 60 and finish Inferno difficulty. In Diablo 2 it was leveling many characters to 99, collecting items and of course PvP. In Diablo 3 it's just collecting items, which actually besides satisfaction gives nothing. Here is what Bashiok said:

"We recognize that the item hunt is just not enough for a long-term sustainable end-game. There are still tons of people playing every day and week, and playing a lot, but eventually they're going to run out of stuff to do (if they haven't already). Killing enemies and finding items is a lot of fun, and we think we have a lot of the systems surrounding that right, or at least on the right path with a few corrections and tweaks. But honestly Diablo III is not World of Warcraft. We aren't going to be able to pump out tons of new systems and content every couple months. There needs to be something else that keeps people engaged, and we know it's not there right now.

We're working toward 1.0.4, which we're really trying to pack with as many fixes and changes we can to help you guys out (and we'll have a bunch of articles posted with all the details as we get closer), and we're of course working on 1.1 with PvP arenas. I think both those patches will do a lot to give people things to do, and get them excited about playing, but they're not going to be a real end-game solution, at least not what we would expect out of a proper end-game. We have some ideas for progression systems, but honestly it's a huge feature if we want to try to do it right, and not something we could envision being possible until well after 1.1 which it itself still a ways out."

Better late than never. Question what exactly that end-game will be? Do PvP will be enough to fulfill this role? For us, the whole D3CL community it is a good news that the main long-term objective in Diablo 3 will be the fight between players. What else? We'll find out soon. One thing is certain - it will require corrections ;)

Discuss on the official forum: http://us.battle.net/d3/en/forum/topic/6019511928.
Comments (0)

Written by: Mag | Date: 2012-07-04 09:28:39 | Related to: Diablo 3 - press review
Blizzard has proposed five options to solve the problem with the Magic Find gear swapping. Here they are:

Option 1: Set a Magic Find Cap
Option 2: Slowly Adjust Magic Find Over Time
Option 3: Use your average MF% or your lowest MF% of the last 5 minutes
Option 4: Zero-Out Your MF% for 3 Minutes After Swapping Gear
Option 5: Gear Swapping Interacts with Nephalem Valor

More details you can find here http://eu.battle.net/d3/en/blog/5338426/Magic_Find_Gear_Swapping-03_07_2012.
Comments (8)

Written by: Mag | Date: 2012-07-04 08:06:22 | Related to: Diablo 3
Share your character builds - necessarily in the form of a link to the calculator http://eu.battle.net/d3/en/calculator/. Write a short description of owned items, what is the core of your game, whether you max critics, where are you mainly playing for items on and what is your general tactic. The whole not need to be very long. Your builds will be published on the D3CL portal.

HC builds are also welcome.
Comments (2)

Written by: Mag | Date: 2012-07-03 10:02:57 | Related to: Diablo 3 - press review
A few days ago I mentioned that Blizzard wonders what to do with item switching for MF by players during the killing bosses. Bashiok on his Twitter is collecting opinions on the subject. It seems that sooner or later we will have further changes in this area.

Temat na oficjalnym forum: http://us.battle.net/d3/en/forum/topic/6008541109
Twitter Bashioka: https://twitter.com/Bashiok/status/219881240357109760

On Diablofans.com board you can find very interesting thread with analysis of the Magic Find system by Cyeron. I really recommend it. Dispels most of the previous questions and doubts about MF. In short (because the article is quite big) Magic Find has an impact only on the item class (magic, rare, set, legendary) of the gear dropped, not the amounts or the iLvl.
Comments (0)

Written by: Mag | Date: 2012-07-02 23:37:47 | Related to: D3CL General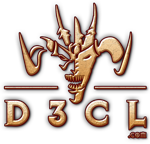 From today, comments on particular news are available from the portal. There's no need to log on the forum to show them. It's tribute to those who preferred to spam in the style of Angrenost Realm (our previous project). I hope it will revive some comments, which unfortunately are not so well as you can see. Until the introduction of IPB Board, which we turn for a few monts, adding new post requires entering the forum. In the future it won't be necessary.
Comments (1)

Written by: Mag | Date: 2012-07-02 13:25:13 | Related to: Diablo 3 - press review
Dozens of people on the official Blizzard forum report problems with the Auction House. Listed items on auction have disappeared. No response of The Blues at this moment, just the standard copy-paste "everything will be fine" from a technical support in direct contact. If you also experienced this problem - do not worry! You are not alone! The problem certainly is related to the recent "corrections" in the AH.

Link: http://eu.battle.net/d3/en/forum/topic/4848026129
Comments (1)

Written by: Mag | Date: 2012-06-30 09:50:11 | Related to: Diablo 3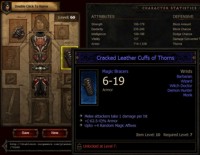 The incgamers.com portal is sharing Diablo 3 Character Planner. It allows you to create a perfect build, depending on the chosen items and check the final statistics. Its usefulness will surely increase when PvP patch will be released. when wise heads will calculate every single stat :) Feel free to plan!


Comments (3)

Written by: Mag | Date: 2012-06-29 09:04:21 | Related to: Diablo 3 - press review
On the official Battle.net board one of the players asked about the possibility of quick change of equipment with enhanced Magic Find when killing bosses. There is such possibility in Diablo 2 for weapons and shields. Reply of Blizzard proves that they were preparing some changes to the Magic Find, while admitting that they are thinking about this solution. Perhaps some of them were released in todays hotfix because of changes in drop rates.

The possibility of rapid changes in equipment is not only convenient for MF, but the ability to hold two different builds useful depending on the situation.

Ajantis on his blog has published the list of maximum equipment modifier values. You can find it here.
Comments (0)