D3CL on Facebook, Twitter & YouTube!
Written by: RoGH | Date: 0000-00-00 00:00:00 | Related to: D3CL General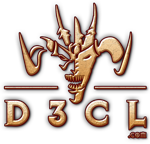 D3CL landed on Facebook! Like us on http://www.facebook.com/D3ClanLeague. Help us conquer FB by sharing our fanpage and statuses on your profile ! On FB we will post samples of news from D3CL.com and many new informations, which you won't find on our website. Soon we will draw gifts among all our facebook fans!

We are also expanding our activity on Twitter and Youtube, we will start twitting from this weekend and on our YT channel soon we will upload new, selfmade D3CL promo movie! Look forward to more news about that.

You will find all our profiles on the right side of our website.
Comments
Topic on forum