1v1 tournament organized by AZM and D3CL
Written by: Mag | Date: 2014-06-14 15:05:01 | Related to: D3CL Diablo 3 PvP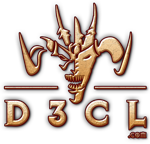 Welcome back after a long break. AZM and D3CL organize 1v1 PvP tournament. Competition starts 29/06/2014 at 20:00 CET (Sunday). Signups starts two days earlier. You can pre-signup now on comments. It will help us to estimate the number of players. D3CL rules apply.

If the attendance will be high, we are going to organize such event regulary along with the ladder as you know from the Angrenost Realm (private PvP Diablo 2 Server).

Those who wish to start playing PvP and need advice, ask in the comments. Surely someone can help you :)

Zelgadiz is the tournament host.
Comments
Topic on forum