Mirror Leagues + 2v2 friendly fire tournament
Written by: Rogh | Date: 2013-03-19 12:28:17 | Related to: D3CL Diablo 3 PvP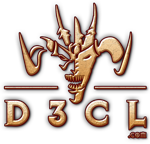 Plans of D3CL crew for the nearest future:

- We are starting with D3CL Mirror Leagues on Europe - each class has its own 1v1 league. Sign ups are already open, league will start tomorrow. It will last not less than 2 weeks, but after end of the ladder top 4 players will battle in playoffs. This should bring some more excitement for the crowd and also it will be easier to avoid problems and violations which occurred at the end of 1v1 D3CL Season #1. Rules are General 1.2.5. D3CL rules, without class specifics obviously, you will find them on forums in proper section.

- We will host 2v2 Friendly Fire Tournament (one-day) on Sunday, March 24th, 17 C.E.T. on EU Realm. Sign ups will be open most likely on Thursday.

- We are still working on newest 1v1 D3CL rules. Version 1.2.5. has some nice solutions, but it still needs a lot of duelling. Soon we will run 1v1 test leagues both on EU & US realms.

Subscription for 2v2 Tournament: http://www.d3cl.com/en/tournaments
Comments
Damx
2013-03-19 12:40
mirror*
Iria
2013-03-19 17:40
No US tournament? Or simply not planned yet?
Mr.Mag
2013-03-19 17:43
1v1 on the new rules is planned on US. there's too few players for mirrors on that realm so far. hope US league will start before weekend. give us a little more time to decide.
Forti
2013-03-21 23:39
guys... time needed to wait for next challang with the sam players is 5 days? lets be honest.. make it 2 days...
Topic on forum